Doncaster Pride News
Watch this space for all the latest news from Doncaster Pride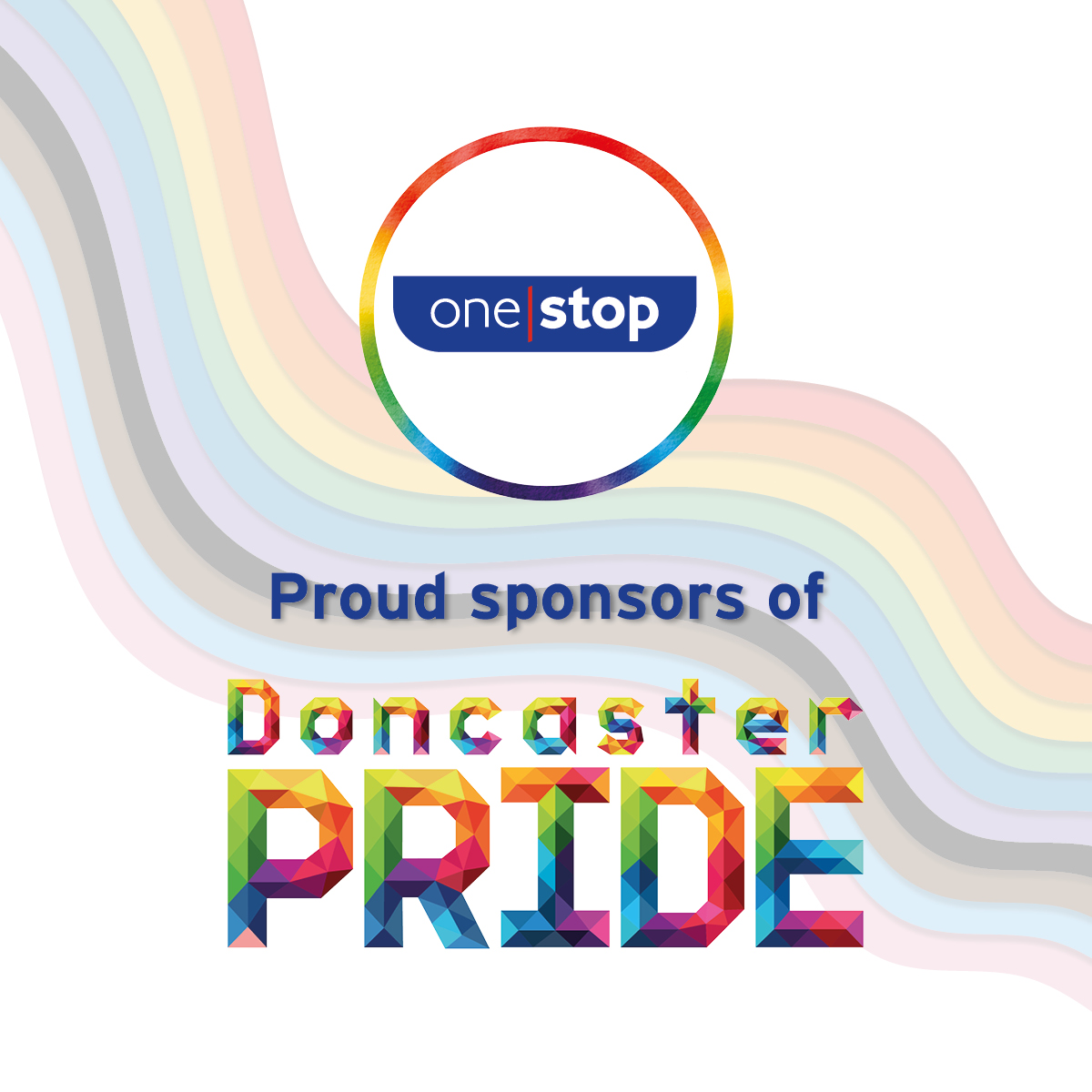 One Stop sponsors Doncaster Pride 2023!
Press Release
One Stop will be sponsoring Doncaster Pride on Saturday 12th August at Elmfield Park!
The convenience retailer has 19 stores in the Doncaster area, and colleagues from the local stores will be taking part in the Pride celebrations, along with colleagues from their Store Support Centre in the Midlands.
They'll also be hosting the special "One Stop Family Zone", where attendees can get their hands on some sweet treats and colouring books completely free of charge! As well as the freebies, they'll also be a chance to enter a raffle to raise money for the One Stop Colleague Networks and charities they support.
Aimee Mottram, Head of Supply Chain Transformation and LGBTQ+ Network Sponsor at One Stop, explains the importance behind sponsoring events like Doncaster Pride: "At One Stop, we're committed to serving & supporting the local communities our stores are located in, so being able to sponsor Doncaster Pride is an honour!
Being able to show that One Stop is an inclusive LGBTQ+ employer and a safe place for the community is incredibly important to us."
Jenny Dewsnap, Chair of Trustees at Doncaster Pride said: "We are delighted One Stop have joined the Doncaster Pride Team for 2023. The Children and Family Zone was a great success in 2022 and we wanted to build on this for 2023, thanks to the support received from One Stop we're able to do this.
The Family Zone is so important and shows our commitment to making Doncaster Pride more diverse, more inclusive and more enjoyable for families, after all a world where our children grow up accepting everyone for who they are has to be a good thing."
The event kicks off at 11am on Saturday 12th August and is free to attend! For more information about Doncaster Pride, please visit their website: www.doncasterpride.co.uk
NEWS
It's time for the first HUGE announcement from Pride HQ for 2023.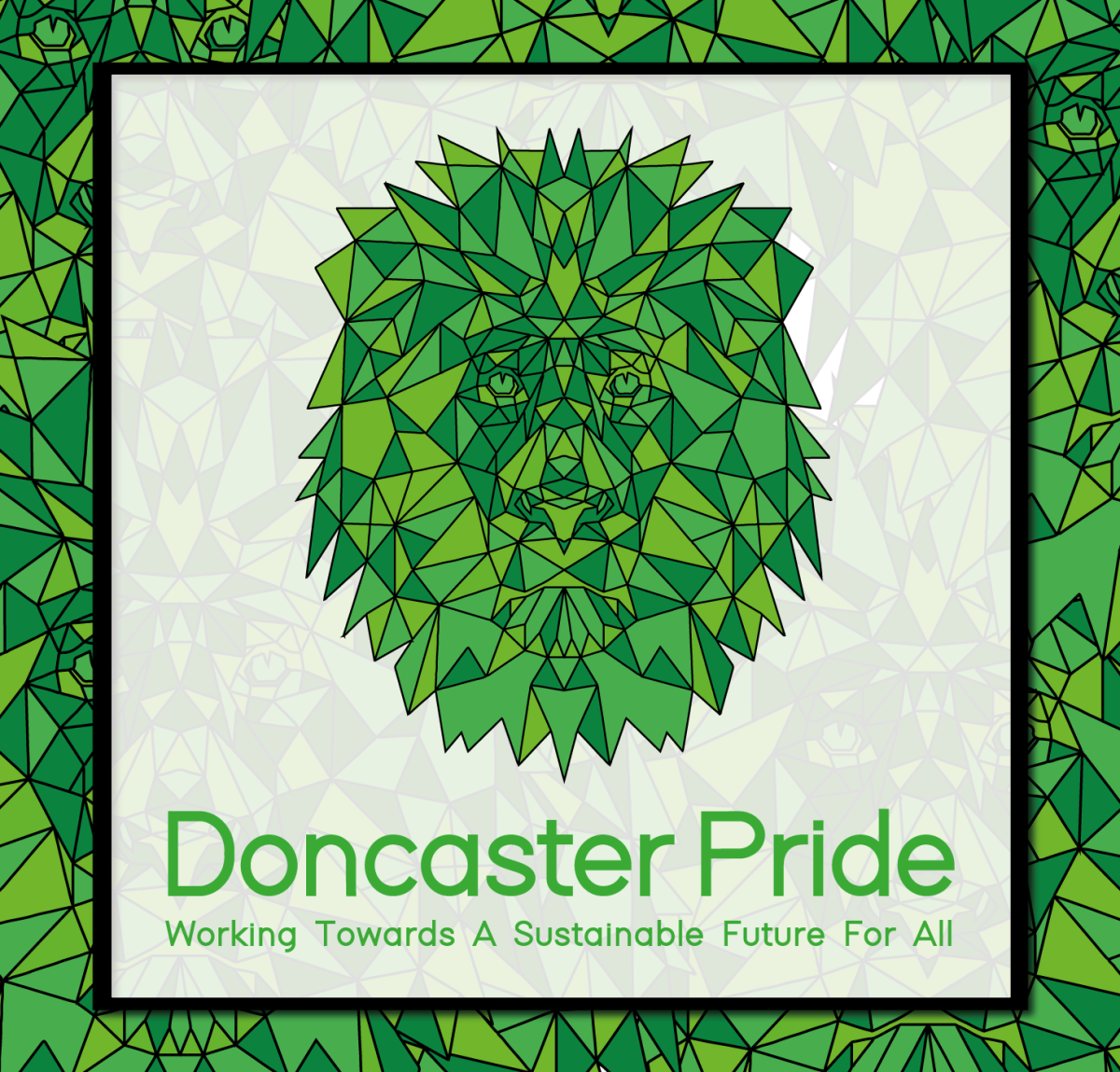 Doncaster Pride is pleased to announce this year's Green Partner is

This partnership will make Doncaster Pride the first ZERO LANDFILL PRIDE EVENT in the UK and that's something we are not only amazingly proud of but we're very grateful to KCM for bringing us this opportunity.
We will share with you very soon much more detail of this brilliant partnership and how we will recycle on-site, and sort offsite to ensure everything that can possibly be recycled is and what's left - the stuff that usually goes in landfill - will then be sent to a local waste to energy plant, where it is used to generate electricity.
As Doncaster Pride grows, we must do our best to protect the environment so look out for loads more about our plans in the coming weeks.
A word from our sponsors...
'As a company, KCM strongly believes in unity and celebrating the LGBTQ+ community so we are delighted to secure this green partnership with Doncaster Pride.
Our Industry leading technology means that any waste we collect will be sorted in our South Yorkshire depot and if it is possible to recycle it, we will! Nothing we collect from the event will be sent to landfill, if it can't be recycled, we will make sure it is sent to a waste-to-energy plant in Yorkshire, generating electricity locally and therefore increasing the overall sustainability of the event.'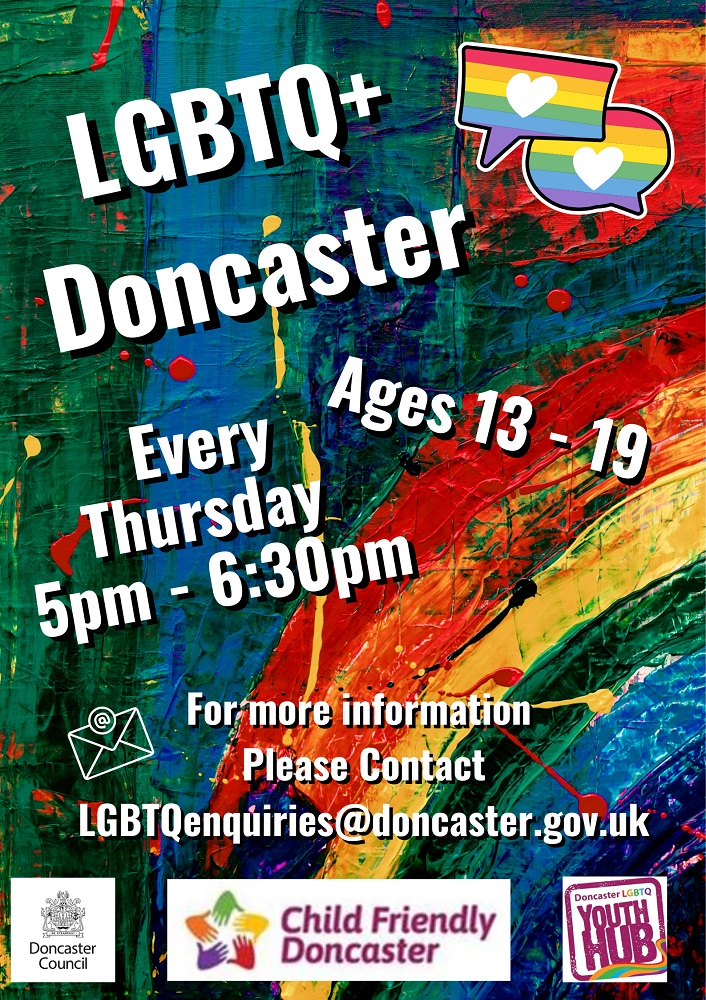 Doncaster LGBTQ+ Youth
Are you ages 13 - 19 then come and join us every Thursday between 5pm - 6.30pm
Mission: Doncaster LGBTQ+ is a leading partnership advocating for and supporting lesbian, gay, bisexual, transgender and questioning young people.
We envision a world in which all LGBTQ+ children, young people and families enjoy the freedom to live safely, openly and genuinely.
For more information email: LGBTQenquiries@doncaster.gov.uk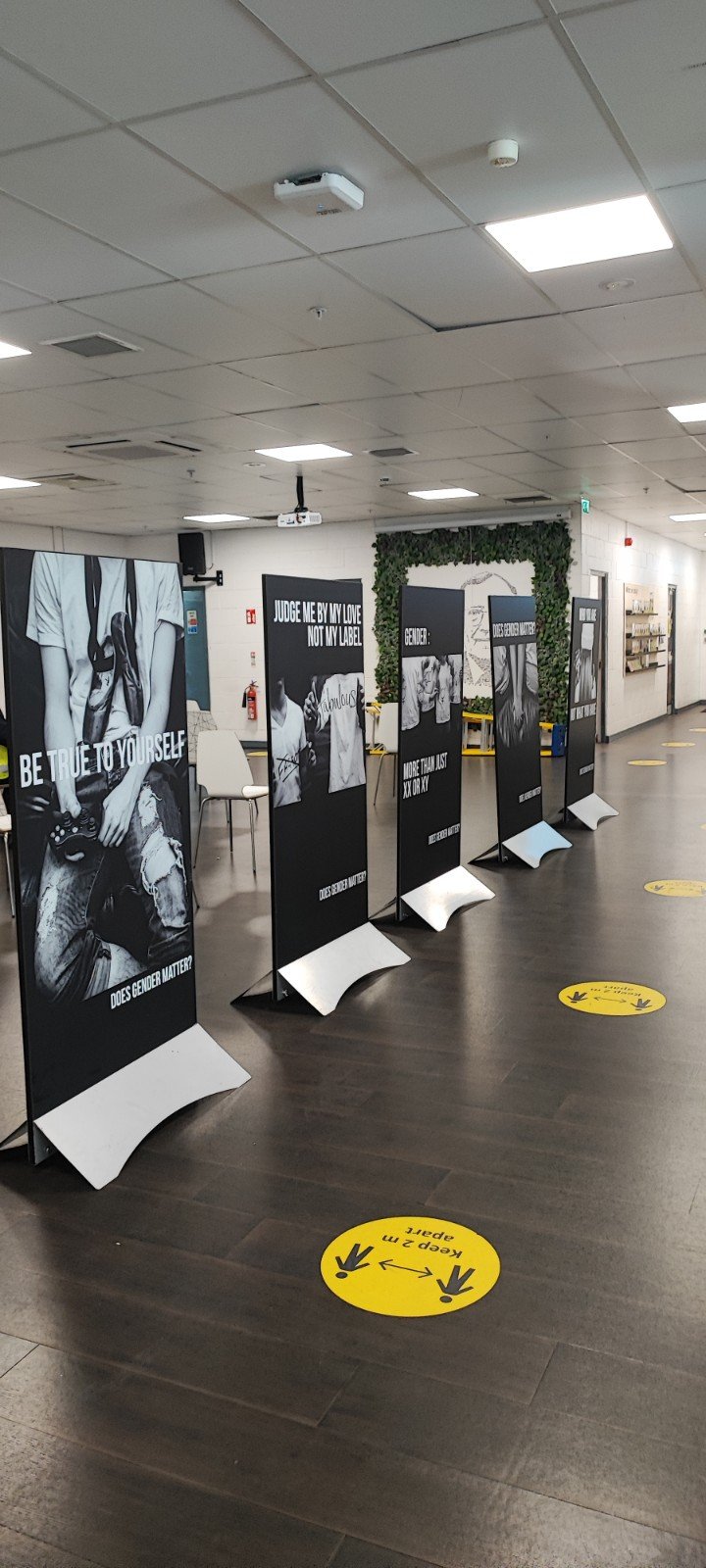 Doncaster Pride Proudly Announces Ongoing Links With Ikea.
Doncaster Pride and Ikea have today reinforced the relationship that's been in place since pre-Covid with Ikea now listed as one of a number of new sponsors of Doncaster Pride.
Ikea has the most amazing philosophy towards their workforce and at a recent visit to the storage depot in Armthorpe I was welcomed to talk to staff about Pride but more importantly, was able to see first-hand just how great the ethos is in action.
These are the company values;
As a humanistic and values-driven company, we support our LGBT+ co-workers' right to be themselves; we provide equal opportunities to develop at Ingka Group and to contribute to our business.
To continue developing as a meaningful and trusted brand, we actively aim at creating a fully inclusive work environment, contributing to a positive change in all areas of our business and in society.

Our aim is to create a fully inclusive work environment and to provide equal opportunities for everyone regardless of sexual orientation or gender identity.
Here are some of the actions we've taken to achieve this:
We implemented a global LGBT+ inclusion plan.
We co-created and endorsed the UN Standards of Conduct on tackling discrimination against LGBT+ people in the workplace and in the community.
We are members of Workplace Pride Foundation and Stonewall, two organisations focused on LGBT+ inclusion in the workplace.
We also joined Open for Business, a business coalition for advancing LGBT+ inclusion in society.
We launched global trans-inclusion guidelines to help managers build trans-inclusive teams and workplaces.
Each year on May 17 we celebrate IDAHOT (International Day Against Homophobia, Biphobia, and Transphobia) with a global campaign.
Thanks to the team at the depot in Armthorpe and the wider company representatives we've had the pleasure to work with. Thank you for your support directly to the event and for the ongoing workplace values that we applaud.
Jenny Dewsnap
Chair of Trustees
NEWS
NEWS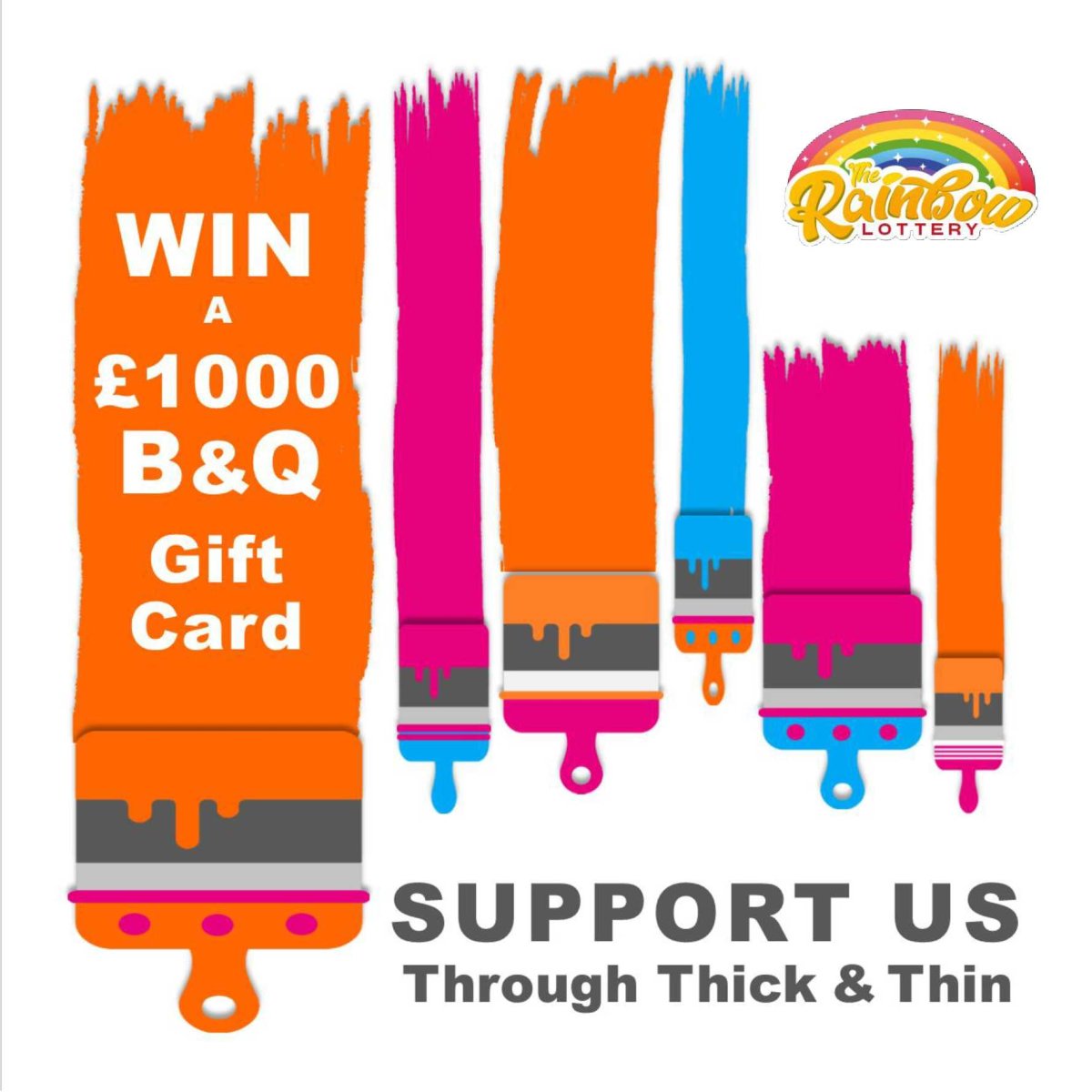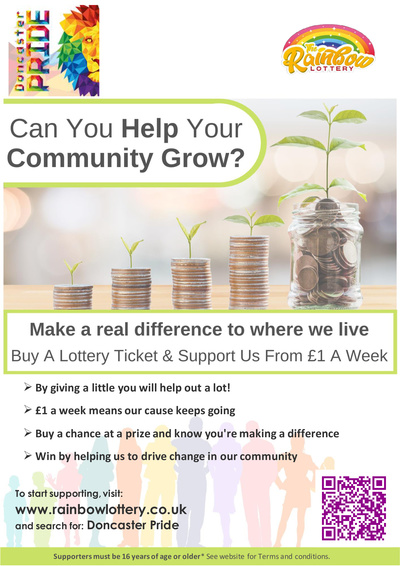 We now have the Rainbow Lottery Page

Support Doncaster Pride and win prizes up to £25,000

50% of all tickets sold go to Doncaster Pride!

Plus 10% goes to other LBGTQ+ good causes!

Tickets only cost £1 per week

Support Doncaster Pride and have a chance to WIN WIn Win Good Luck.